Waking the Green Tiger (selected excerpts)
New to the Global Environmental Justice Project?
Please register and login to preview and/or license this film. If your institution has already licensed this film, you will need to access this page from your institution's network to watch the film. For help on using the Docuseek2 platform, please visit our help wiki.
Where time is short: this 18-minute compilation focusses on a key meeting between activists and farmers at Tianba village near the ManwanDam on the Lancang (Mekong) River in southwestern China.

Please note that the teacher's guides include suggested excerpts for each of the longer films.

Description of excerpt 
Farmers who were displaced by the construction of the Manwan dam in the 1980s were promised new land that never materialized, leaving them nearly destitute. Filmmaker Shi Lihong records their story for a short documentary titled Voice of an Angry River. The film, when circulated among communities on the upper Yangtze river, galvanizes opposition to a new dam to be built at Tiger Leaping Gorge.

Download the teacher's guide for Waking the Green Tiger (PDF)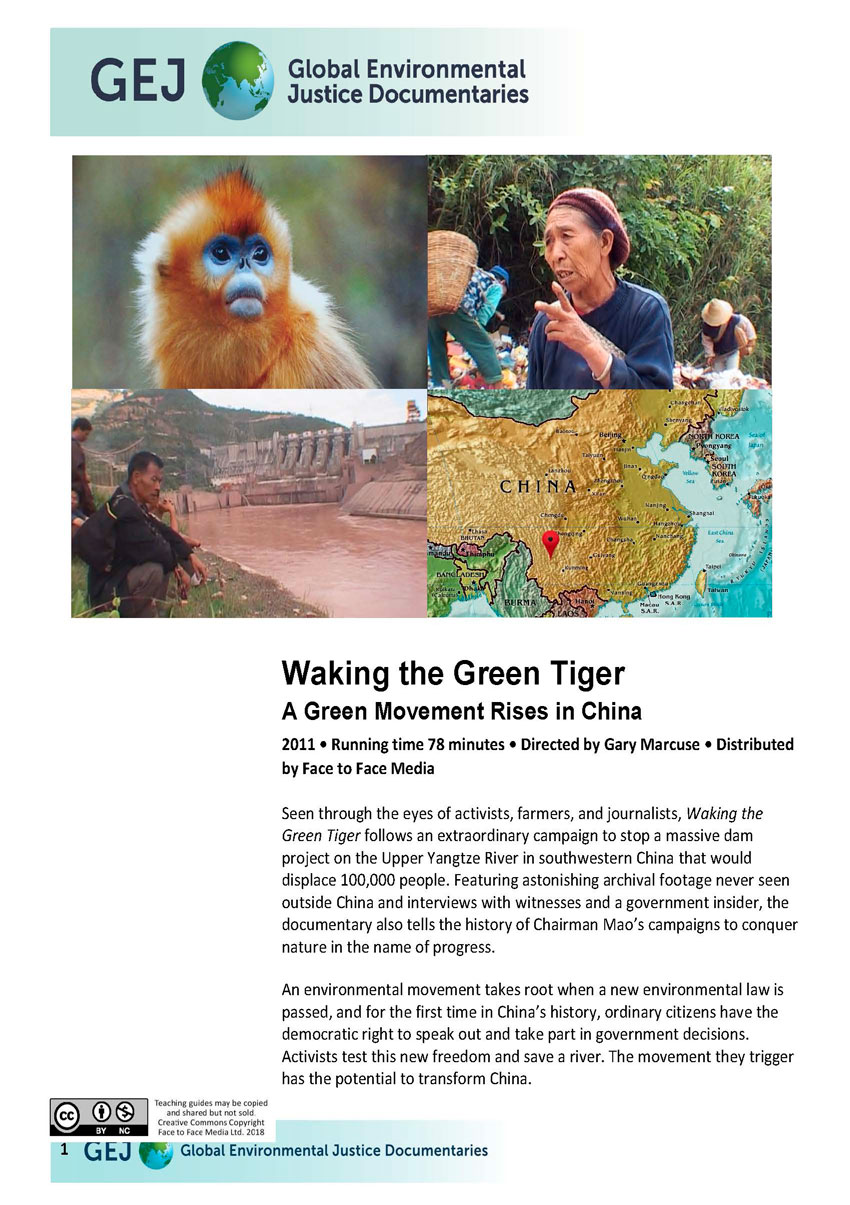 Please see the main entry for this title for a full transcript of this program.
Please see the teacher's guide for this film for maps, synopsis, background information, suggested subjects, reviews, discussion questions and activities.
---
Awards
Please see the main entry for this film for background, synopses, reviews, awards, credits, transcrips and credits.
Distributor credits
Betsy Carson and Gary Marcuse
Gary Marcuse
Please see the main entry for this title for awards and credits
Docuseek subjects
Environmental Justice
Asian Studies
History
Anthropology and Archaeology
Politics and Political Science
Geography
Water
Rivers and Lakes
Asia
Energy
Government Policy
Communication and Media Studies
Journalism and the Press
Agriculture and Food
Manufacturing
Citizenship, Social Movements and Activism
Human Rights
Farming
Food
Global / International Studies
Film and Video Studies
Indigenous Studies
Biodiversity
Hydroelectric
Environmentalists
Habitat Destruction
Pollution
Resource Planning and Management
Ethics
Ecology
East Asia

Distributor subjects
Activism
Animals and Animal Rights
Asian Studies
Biodiversity
China
Communication and Media Studies
Conflict Resolution
Democracy
Economics
ecosystem restoration
Ecosystems
Environmental Anthropology
Environmental Geography
Environmental History
Environmental Justice
Environmental Law
Ethics
Farming
Film and Video Studies
Food
Forestry
Forests
Gender Studies
Grasslands and Prairies
Habitat Loss
History
Human Rights
Human Rights Law
Indigenous Studies
Journalism
Manufacturing
Political Ecology
Pollution
Public Health
Religion
Revolution
Rivers
Solutions
Sustainability
Water
Wetlands
Gender
Women

Keywords
"Waking the Green Tiger excerpt"; Global Environmental Justice; Chairman Mao; MA Jun; SHI Lihong; YU Xiaogang; LIU Jianqiang; DENG Xiaoping; Kunming; Beijing; Yunnan; Shangri La; Lijiang; QU Geping; Great Leap Forward; Cultural Revolution; Kunming; Dianchi Lake; Loess Plateau; Ecosystem restoration; solar power; wind power; Jinshajiang; Upper Yangtze; Manwan Dam; Tiger Leaping Gorge; dam; China Ministry of Environment; State Enviromental Protection Agency; Environmental Law; Friends of Nature; LIANG Xiaoyan; golden monkeys; Judith Shapiro; "Mao's War Against Nature"; XI Zhinong; Wild China FIlms; WANG Yongchen; GE Quanxiao; XIAO Liangzhong; "Voice of an Angry River"; "Waking the Green Tiger"; Gary Marcuse; Man Must Conquer Nature; "Ren Ding Sheng Tian" Global Environmental Justice documentaries collection; Face to Face Media; Nu River Valley; Yunnan Province; Mekong River Valley; Yangtze River Valley; Xiaoshaba Village; Tiger Leaping Gorge; "Waking the Green Tiger "; Global Environmental Justice; Gender; Women;
Welcome to Docuseek2!
Docuseek2 is a streaming platform of the best documentary and social issue films available for the higher education community.
Anyone may search for titles and find detailed information about the titles. To preview films or license them for streaming, you must register and login.
Currently, we support online registration for anyone affiliated with a higher education institution. Please inquire if you are with a K-12 district or school or with a public library.
Click the Close button to get started!