Curator
— Rosemary P. Carbine, Associate Professor of Religious Studies, Whittier College
The Toxic Price of Leather in India
New to the Global Environmental Justice Project?
Please register and login to preview and/or license this film. If your institution has already licensed this film, you will need to access this page from your institution's network to watch the film. For help on using the Docuseek2 platform, please visit our help wiki.
Showcases some of the ecological, social, and public health crises resulting from the thriving leather industry in northern India.
Curator
This film was selected by  Rosemary Carbine, Associate Professor of Religious Studies, Whittier College  
Why I selected this film
Although this film has little religious studies content (except for a brief reference to the Hindu caste system and to the Muslim minority in India), I chose it because it explores an unregulated industry's effects on ecological and public health as well as on Hindu sacred sites and activities. It also offers religious studies students an opportunity to do independent research into how both Hindu and Muslim religious leaders, primarily in marginalized communities, are responding to this industry's effects.
Teacher's guide    
Please see the teacher's guide for maps, background information and suggested subjects, questions and activities.
Synopsis
This short film showcases some of the ecological, social, and public health crises resulting from the thriving leather industry in the leading leather-producing city of Kanpur, located in Uttar Pradesh on the Ganges River in northern India. Although revered as sacred waters and used for both religious rituals as well as meeting daily drinking water and washing needs, the Ganges River ecology and its connected waterways in this region are now highly polluted with toxic waste water from the tanneries. Chromium, lead, and arsenic have polluted the waters and thus poisoned the surrounding farmlands, causing public health crises such as cancers, mental health and child development issues, and skin diseases – with no government regulation or response.
Environmental Justice Focus
The [leather industry's] success comes at great environmental and social cost. Pollution from the tanneries is destroying the ecology of the local Ganges River and scarring residents in the form of life-threatening illnesses…. [Ganges'] water is channeled onto local farmland, poisoning the soil, entering the food chain, and accumulating in local ecosystems. At greatest risk are the people who work in the tanneries and farmers who work daily with the toxic and highly acidic water. Local residents suffer an array of health troubles as a result of the bioaccumulation of dangerous toxins over decades.
-- Excerpted from the Pulitzer Center website  www.pulitzercenter.org/reporting/india-toxic-price-leather
Download the teacher's guide for The Toxic Price of Leather in India (PDF)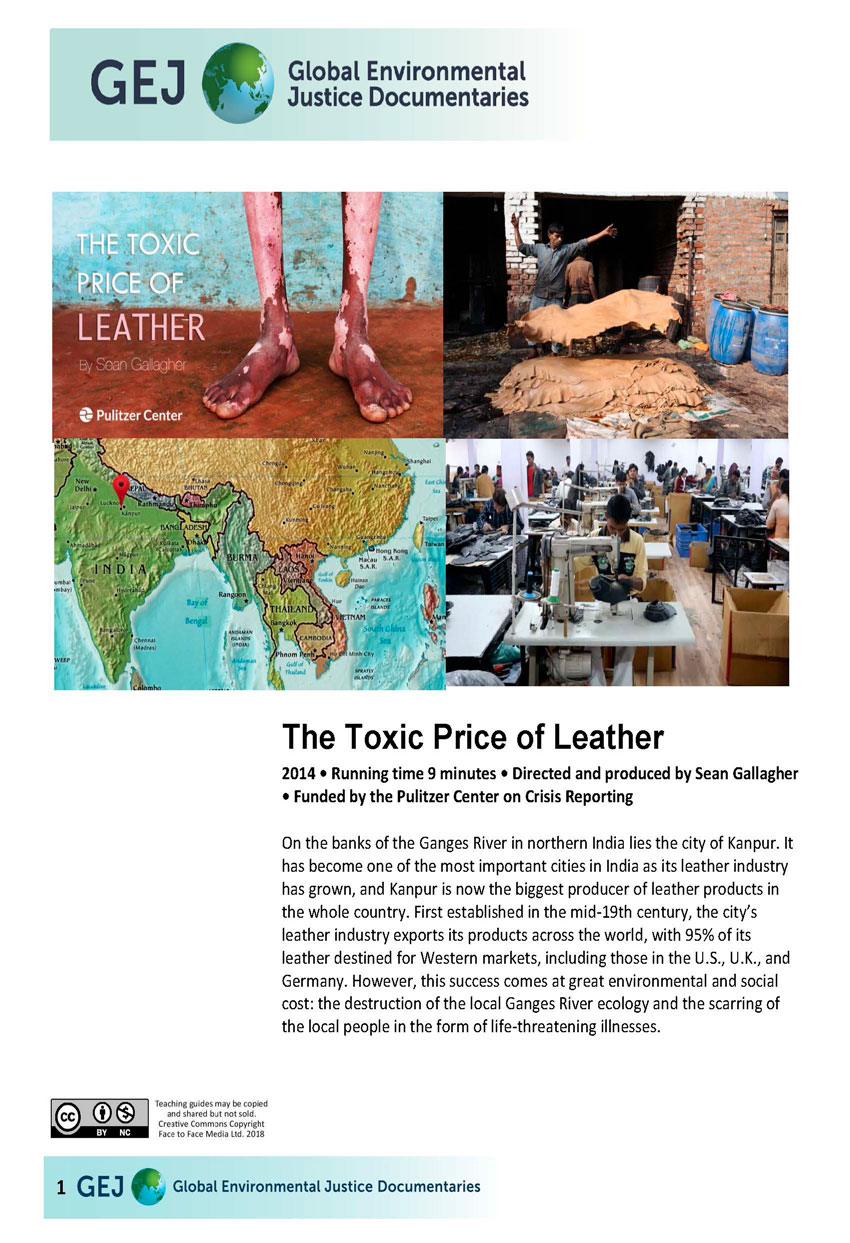 No transcript available.
"The Toxic Price of Leather presents a very human story about the ramifications of widespread consumerism and those wounded in its never-ending appetite." - Jenna Garrett FeatureShoot.com, May 16, 2014 
"I absolutely love hand-crafted leather goods and up until now it's been that same admiration for the end product that's quite frankly obstructed me from even considering as a whole what the process of turning raw-skin into leather looks like... Sean Gallagher sheds light on the extreme pollution the tanneries have had on the citizens of Kanpur. Such an eye-opener." Jorge Quinteros jorgeq.com
"Pollution in India is a hidden problem with catastrophic consequences affecting rural and urban areas. Chromium contamination, lead pollution and pesticide poisoning have left a toxic trail." --The Pulitzer Center on Crisis Reporting
---
Awards
Sean Gallagher is a British photographer and filmmaker who has been based in Asia for over a decade. His work focuses on highlighting environmental issues and crises, with a specific emphasis on developing nations in Asia including China, India and Indonesia. Graduating in zoology from university in the UK, his background in science has led to his desire to communicate important global ecological issues through visual storytelling. His recent work on environmental issues in China was acknowledged as "some of the most striking images on display at [the] Copenhagen climate change conference," by the BBC World Service. He is a seven-time recipient of Pulitzer Center on Crisis Reporting travel grants and his work has received distinctions from the Earth Journalism Awards, Press Photographer's Year Awards and Atkins CIWEM Environmental Photographer of the Year Competition. His work has been published internationally, appearing in Newsweek Magazine, TIME, CNN, The New York Times, National Geographic News, The Atlantic and BBC News. He is represented by National Geographic Creative.
Citation
Main credits
Gallagher, Sean (film director)
Gallagher, Sean (film producer)

Other credits
Music, Kevin MacLeod.
Distributor credits
Sean Gallagher
Sean Gallagher
A production by Sean Gallagher
Music Dhaka by Kevin MacLeod
Incompetech.com
Supported by a grant from the Pulitzer Center
Docuseek subjects
Toxic Chemicals
Environmental Justice
Asian Studies
Water
Environmental Health
Illness, Disease and Disorders
Asia
Toxic Waste
Government Policy
Trade
Communication and Media Studies
Working Conditions
Occupational Health and Safety
Manufacturing
Corporate Social Responsibility
Human Rights
Global / International Studies
Consumers
Globalization
Journalism and the Press
Media Literacy
Pollution
Ethics
Family Issues
South Asia
Women's Studies
Islam
Hinduism

Distributor subjects
Activism
Agriculture
Capitalism
Consumerism
Consumerism
Development
Economics
Environmental Anthropology
Environmental Education
Environmental Health
Environmental Justice
Environmental Law
Environmental Policy
Ethics
Global Issues
Globalization
Health and Health Care
Hinduism, Islam
Human Rights
Labour Studies
Manufacturing
Occupational Health and Safety
Religion
Toxic Chemicals
Trade

Keywords
"The Toxic Price of Leather in India", Pulitzer Center on Crisis Reporting, Sean Gallagher, Kanpur, Ganges River, tanneries, bioaccumulation, chromium, lead, arsenic, asthma, fashion industry, photojournalism, toxic chemicals, Sonalal Yadav, Jaiswal, Rakesh, farming cooperative, Javad Akter, Kanpur, Utar Pradesh; "The Toxic Price of Leather in India "; Global Environmental Justice
Welcome to Docuseek2!
Docuseek2 is a streaming platform of the best documentary and social issue films available for the higher education community.
Anyone may search for titles and find detailed information about the titles. To preview films or license them for streaming, you must register and login.
Currently, we support online registration for anyone affiliated with a higher education institution. Please inquire if you are with a K-12 district or school or with a public library.
Click the Close button to get started!