Curator
— Rosemary P. Carbine, Associate Professor of Religious Studies, Whittier College
Searching for Sacred Mountain
New to the Global Environmental Justice Project?
Please register and login to preview and/or license this film. If your institution has already licensed this film, you will need to access this page from your institution's network to watch the film. For help on using the Docuseek2 platform, please visit our help wiki.
Journalist Liu Jianqiang and conservation biologist Lü Zhi discover a new way of looking at environmental conservation on the Tibetan Plateau where Buddhist monks and villagers have preserved vast tracts of land for centuries.
Curator
This film was selected by Rosemary Carbine, Associate Professor of Religious Studies, Whittier College  
Why I chose this film
I have used this film in a comparative religion and ecology class and found it fruitful to raise students' global and religious studies awareness about the inextricable interrelationship of ecological and social issues from Buddhist perspectives.
Teacher's guide    
Download the Teacher's Guide (PDF) for maps, background information and suggested subjects, questions and activities.
Synopsis
The Tibetan monastery at Baiyu rests in the brilliant Nianbaoyuze mountain range, a sacred and nationally protected park. This mountain range is the epitome of intersections between religion and environment and China—and a key element in Searching for Sacred Mountain.
The documentary tells the story of Liu Jianqiang, an investigative environmental journalist and Beijing editor of chinadialogue who has recently converted to Buddhism. The documentary includes footage of senior Chinese government officials declaring their commitment to an 'ecological civilization' that draws on Buddhism, Daoism, Confucianism, and other Chinese cultural traditions as a means of addressing the country's growing environmental challenges. It also shows that leading Chinese academics are making the connection between such traditions and the protection of vulnerable lands and habitats.
Peking University conservation biologist Dr. Lü Zhi is featured in the program, discussing the remarkable success of the Buddhist communities that have been able to preserve old growth forests for centuries.
"When I first visited the Tibetan region in the 1990s I was surprised by what I found. At that time there was a lot of logging going on, but in some areas the original forest was preserved. There were huge trees 600 and 700 years old. In some of these areas the animals were not afraid of people. I thought this was very strange; why were these areas preserved? I asked the local people how this happened and they said, "Oh, this is our sacred mountain." But what did that mean? How could this be possible?" -
""Buddhism's approach to the concept of protection is through an act of self-discipline. We've often wondered which would work best: laws which are based on punishment or economic incentives which are based on financial rewards. The Buddhist system is different. It comes from the heart of the people." - Conservation Biologist Dr. Lü Zhi, Peking University
Environmental Justice Focus
As environmental justice studies multidimensional intersections of ecological and social issues, this film features Buddhist ethics and practices as a meaningful and scientifically-documented successful way to promote environmental protection in China, especially in Tibetan regions. Climate change, extractive industries, infrastructure plans/construction, industrial pollution and waste disposal, etc. all threaten land, air, water, forests, wildlife habitats, and so on. Buddhist ethics could provide an important means to redress these impacts in China.   
Download the transcript (PDF)
Download Teacher's Guide for Searching for Sacred Mountain (PDF)
Written by Rosemary Carbine, associate Professor or Religious Studies,  Whittier College
The Science of Sacred Mountain: An extended Interview with Dr. Lü Zhi 
A conservation biologist at Peking University, Dr Lü describes her first visits to the Tibetan area and how that led to the research on sacred lakes and mountains that she and her students carried out and published in 2013. "Buddhism's approach to the concept of protection is through an act of self-discipline. We've often wondered which would work best: laws which are based on punishment or economic incentives which are based on financial rewards. The Buddhist system is different. It comes from the heart of the people." - Dr. Lü Zhi   This interview was recorded by Shi Lihong, edited by Gary Marcuse and published on the website of the Pulitzer Center on Crisis Reporting.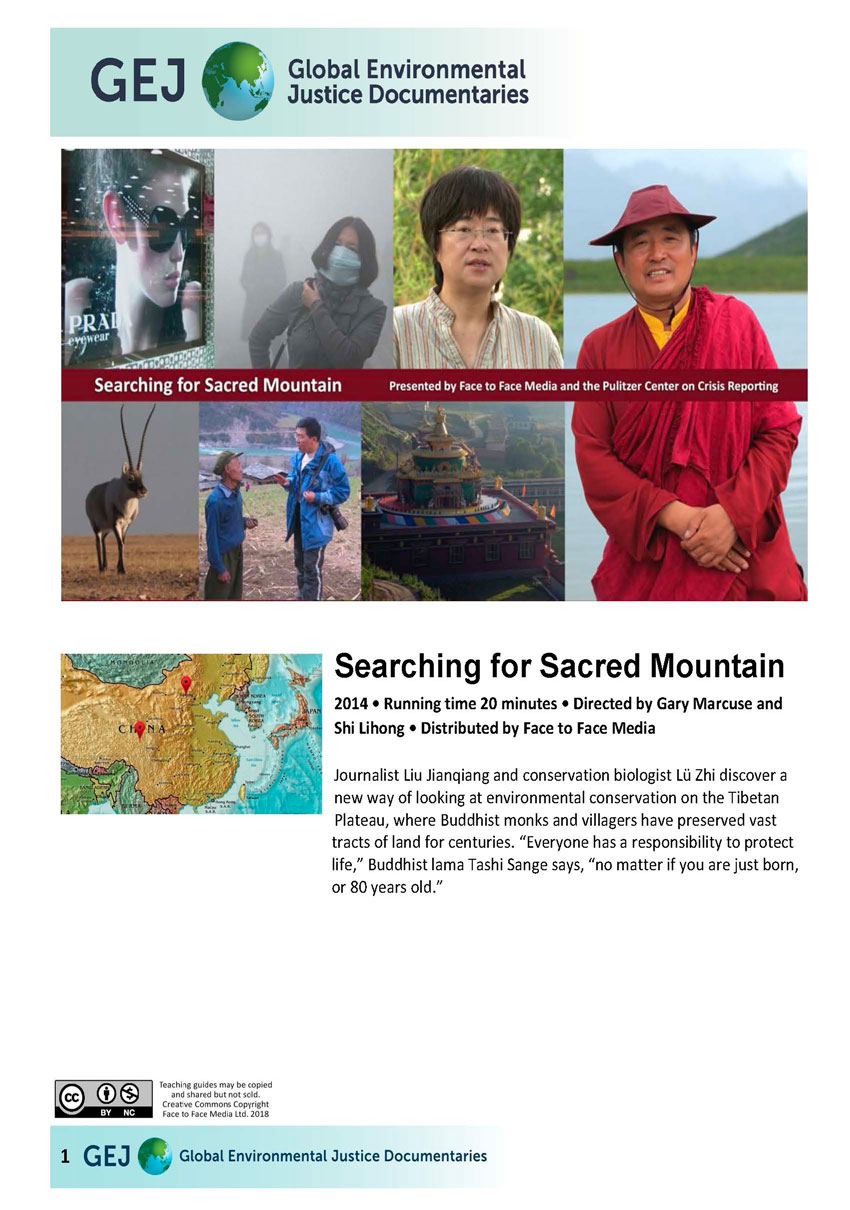 —
Filmmakers Gary Marcuse and Shi Lihong capture a surprising trend in China in their new film, "Searching for Sacred Mountain." China is beginning to draw on its religious heritage -- including Buddhism, Daoism, Confucianism, and other traditions to address the country's growing environmental challenges.- KCET Los Angeles
---
Awards
Broadcasts

Premiered at the University of Chicago conference "Meeting China's Environmental Crisis" October 29 2014
Broadcasts an 8 minute version on PBS Religion and Ethics Newsweekly 24 October 2014 under the title "China Buddhism and the Environment "
A 6 minute version broadcast on PBS NewsHour under the title "Can Buddhists Values Offer China a Greener Path?" 28 November 2014
KCET Los Angeles broadcast an extended 14 minute interview with excerpts from the film on KCET Earth Focus under the title China: Religion and Environment. 9 July 2015. 
Festivals
ViBGYOR Documentary Film Festival Thrissur, India February 2015
DC Environmental Film Festival , Pulitzer Center on Crisis Reporting Screening, March 2015
International Film Festival of Popular Science and Cultural History, Szolnok Hungary 15-18 October 2015
Culture Unplugged Film Festiva l, Online 2015
Edition Green Unplugged One World Film Festival September 25-27 2015
University Screenings

American University, Washington DC, USA Chicago University, Chicago, Illinois, USA Chinese University of Communications, Beijing, China Davidson College, Charlotte, North Carolina Darrang College, Tezpur, Assam, India Pittsburgh University, Pittsburgh, Pennsylvania, USA Whittier College, Los Angeles, California USA Yale University, New Haven, Connecticut, USA ASIANetwork 2017 Conference, Chicago, USA Oklahoma University Conference on Food and Water Activism, 2017
Citation
Main credits
Marcuse, Gary (film director)
Shi, Lihong (film director)
Sam Lazaro, Fred de (narrator)

Other credits
Editor, Xia Tong; music, Dennis Burke; camera, Li Lei, Zhao Hang.
Distributor credits
Face to Face Media
Gary Marcuse and Shi Lihong
Vancouver Post Production
Co-Director GARY MARCUSE
Editor XIA TONG
Music DENNIS BURKE
Mixer EWAN DEANE
Online LARRY DI STEFANO
Administration BETSY CARSON
Animation MARK STUCKERT SEQUENCE POST
Baiyu and Beijing
Co-Director SHI LIHONG
Camera LI LEI
2nd Camera ZHAO HANG
Audio WEI XIAOYU
Driver YOU FENG
Narration
FRED DE SAM LAZARO
Under-Told Stories Project
St. Mary's University
Voice over
CATHERINE ZHU
KALSANG DAWA
GARY MARCUSE
Special Thanks
LU ZHI
TASHI SANGE
QIAMEI RINPOCHE
BAIYU MONASTERY
RESIDENTS OF BAIYU
YOUNGHE LAMA TEMPLE
SANJIANGYUAN NATURE RESERVE
OMNIFILM POST
Stockshots
IBE
SHAN SHUI
TASHI SANGE
FACE TO FACE MEDIA
XI ZHINONG, WILD CHINA FILM
ALLIANCE OF RELIGION AND CONSERVATION
GUIZHOU SATELLITE TV
TAKUNGPAO.COM.HK
CCTV
Produced by Face to Face Media
Docuseek subjects
Environmental Justice
Asian Studies
History
Politics and Political Science
Geography
Ethnography
Mountains
Environmental Science
Sustainability
Asia
Journalism and the Press
Citizenship, Social Movements and Activism
Race and Racism
Global / International Studies
Consumers
Indigenous Studies
Environmental Education
Biodiversity
Conservation and Protection
Endangered Species and Extinction
Environmentalists
Habitat Destruction
Pollution
Water
Ecology
Family Issues
East Asia
Religion and Spirituality
Rivers and Lakes

Distributor subjects
Asian Studies
Tibet
China
Animals and Animal Rights
Biodiversity
Biology
Bioregions and Habitat
Climate Change
Conservation Biology
Ecosystems
Endangered Species
Environmental Geography
Activism
Anthropology
Cultural Anthropology
Environmental Anthropology
Capitalism
Development
Consumerism
Solutions
Communication and Media Studies
Environmental Education
Bioethics
Buddhism
Eco-Justice
Environmental Health
Environmental Justice
Ethics
Film and Video Studies
Journalism
Political Ecology
Religion
Religion and Ecology
Other: Tibetan Buddhism
Environmental Law
Environmental Planning
Environmental Policy
Science and Technology
Pollution
Public Health
Rivers
Sustainability
Tibetan Buddhism

Keywords
"Searching for Sacred Mountain", Liu Jianqiang, Shi Lihong, Fred de Sam Lazaro, Gary Marcuse, , China, Tibet, Buddhist environmentalism, Chengdu, Nianbaoyuze Mountains, Baiyu Monastery, Buddhist NGOs, biodiversity, mountains, rivers (water tower of Asia), ecological civilization, environmental journalism and filmmaking, conversation biology, Tashi Sange, Beijing, Liu Jianqiang, Qiamei Rinpoche, Martin Palmer , Shi Lihong, Tashi Sange, Dr. Lü Zhi, Chengdu, Sichuan province, Baiyu; "Searching for Sacred Mountain "; Global Environmental Justice
Welcome to Docuseek2!
Docuseek2 is a streaming platform of the best documentary and social issue films available for the higher education community.
Anyone may search for titles and find detailed information about the titles. To preview films or license them for streaming, you must register and login.
Currently, we support online registration for anyone affiliated with a higher education institution. Please inquire if you are with a K-12 district or school or with a public library.
Click the Close button to get started!