Curator
— Jason A.Carbine, Associate Professor of Religious Studies, Whittier College
Blood and Gold
New to the Global Environmental Justice Project?
Please register and login to preview and/or license this film. If your institution has already licensed this film, you will need to access this page from your institution's network to watch the film. For help on using the Docuseek2 platform, please visit our help wiki.
Blood and Gold: Inside Burma's Hidden War explores the intensification of violence as a cease-fire collapses and a civil war flares up between Burma's government military forces and the Kachin Independence Army (KIA) in the country's Kachin State.
Curator
Jason A. Carbine, Associate Professor, C. Milo Connick Chair of Religious Studies, Whittier College

Why I selected this film
I chose this film for its insights into the complex political, economic,and environmental dynamics in northern Burma's Kachin State, which borders China. The story was recorded by two American journalists,with support from the Pulitzer Center on Crisis Reporting. It was filmed on the battlefields; in the camps and refugee settlements, where tensof thousands of residents have fled from the fighting; and in the offices of military and government officials hoping to end the strife. As the Burmese military, the Kachin insurgents, and state-owned Chinese businesses compete for control over the region's rich resources, a civil war drags on. The impact of the Chinese-funded Myitsone dam projectfigures prominently in this documentary, as it does in Dams, Drugs,and Democracy, which is also part of the GEJ collection.
Teacher's guide  
Please see the teacher's guide for maps, background information, suggested subjects, questions and activities.
Synopsis
Blood and Gold: Inside Burma's Hidden War examines the conflict in Burma's Kachin State when it erupted in 2011 after a 17 year cease-fire. Filmmakers Jason Motlagh and Steve Sapienza interview Kachin military personnel, farmers, recruits, a journalist, a scholar, an aid worker, and a government official about the continuing war.The journalists also travel deep inside the war zone to film KIA headquarters near the border with China, military training sessions, active battlegrounds, and refugee camps in and around the KIA's administrative capital of Laiza. Back in Yangon and the capital city of Naypyidaw, they document the international response to the opening up of Burma under its new president, Thein Sein, a former military general. The journalists find that the northern state's rich resources, including a massive Chinese-funded hydroelectric project on the Irrawaddy River, are at the heart of the conflict in Kachin. The film concludes with a discussion of the KIA's complicated relations with China.
The environmental justice focus of the film
Environmental justice (the recognition of human rights and the protection of the environment) is often stymied when entrenched
interests wage war in order to control natural resources. Blood and Gold offers many insights into the devastation and hardships at both
human and environmental levels. 
Download the teacher's guide for Blood and Gold (PDF)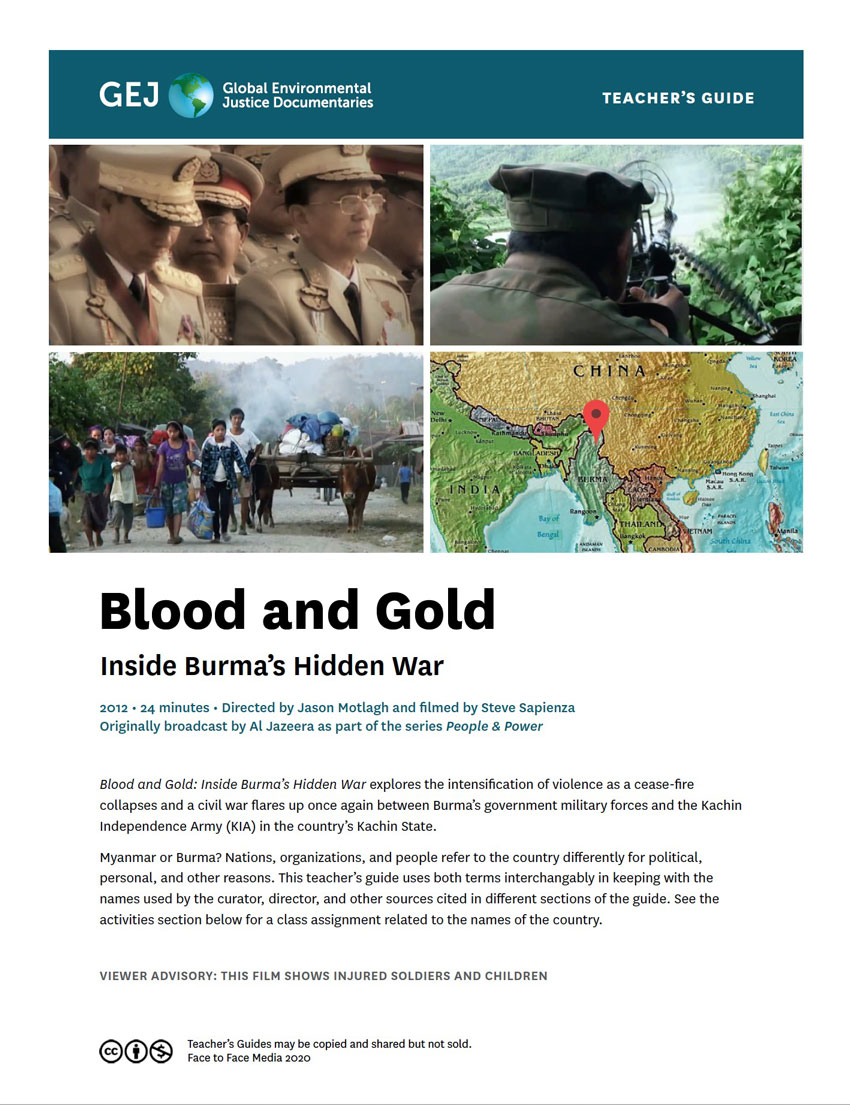 No transcript available.
Citation
Main credits
Motlagh, Jason (filmmaker)
Sapienza, Steve (filmmaker)

Distributor credits
Jason Murtlagh and Steven Sapienza
Jason Motlagh and Steve Sapienza
Directed by Jason Motlagh and and Steve Sapienza. Funded by the Pulitzer Center on Crisis Reporting
Docuseek subjects
Environmental Justice
Asia
Citizenship, Social Movements and Activism
Human Rights
Global / International Studies
Indigenous Studies
Water
Geography
History
Colonialism
South Asia
Forestry
Rural Studies
Corruption
Environmental Justice
Immigration and Refugees
War and Peace
China
Myanmar
Civil War

Distributor subjects
Activism
Asian Studies
China
Corruption
Development
Drug Trade
Forestry
Government
Indigenous Studies
Military
Mining
Myanmar
War
Burma
Ethnic Studies
Insurgency
Kachin Peoples,Natural Resouorces
Resource Extraction
Dams
Religion
Southeast Asia
Christianity

Keywords
Al Jazeera People & Power,Jason Motlagh,Steven Sapienza,Pulitzer Center funding,Burma,Myanmar, Irawaddy River,Kachin,Myitsone Dam,pipeline,civil war,China,refugees,Kachin Indepdence Army(KIA), Sean Turnell,Hilary Clinton,Barak Obama,Aun San Suu Kyi,Burtil Lintner,"Blood and Gold",Global Environmental Justice,
Welcome to Docuseek2!
Docuseek2 is a streaming platform of the best documentary and social issue films available for the higher education community.
Anyone may search for titles and find detailed information about the titles. To preview films or license them for streaming, you must register and login.
Currently, we support online registration for anyone affiliated with a higher education institution. Please inquire if you are with a K-12 district or school or with a public library.
Click the Close button to get started!