Curator
— Amity Doolittle, Senior Lecturer and Research Scientist, Yale School of Forestry and Environmental Studies
The Last Mountain
New to the Global Environmental Justice Project?
Please register and login to preview and/or license this film. If your institution has already licensed this film, you will need to access this page from your institution's network to watch the film. For help on using the Docuseek2 platform, please visit our help wiki.
* New film added Fall 2020 * 
The Last Mountain documents the struggles of a small West Virginia community fighting to preserve Coal River Mountain from mountaintop removal (MTR) coal mining and to expose the impact of the coal industry on their lives and health.
Curator
Amity Doolittle, Senior Lecturer at the Yale School of Forestry and Environmental Studies
Why I selected this film
This film makes an important point about the practice of mountaintop removal (MTR) and its devastating consequences on communities and the environment. The film highlights how a small group of citizens in the valleys of Appalachia is trying to stop big coal corporations from continuing the practice of MTR in order to protect their health and environment.
Teacher's guide
Please see the teacher's guide for maps, background information, suggested subjects, questions and activities. The guide was written by Caroline Scanlan with research support from Liz Felker and Elham Shabahat, graduate students at the Yale School of Forestry and Environmental Studies.
Synopsis
The Last Mountain documents the struggles of a small West Virginia community fighting to preserve Coal River Mountain from mountaintop removal (MTR) coal mining. While the film explains many of the detrimental effects that MTR mining has on local forests and streams, its true impact rests on the personal stories shared by so many residents whose health and well-being have been negatively affected by the nearby coal industry.

Ultimately, the strength of the movie lies in its ability to both highlight local efforts of resistance and contextualize the events occurring in Coal River Valley within greater national patterns of energy production and consumption. As Maria Gunnoe, a local activist, explains, "You're connected to coal whether you realize it or not. Everybody's connected to this. And everybody's causing it. And everybody's allowing it."
The environmental justice focus of the film.
People and residents living in Coal River Valley are suffering the negative consequences of the coal industry, including environmental contamination from MTR mining, high rates of asthma, brain damage, and cancer, among other health burdens. Environmental justice comes into play when residents organize against powerful coal companies through both local acts of resistance and partnering with outside activists who engage in non-violent civil disobedience. The difficulties that communities face in fighting these actors are also explored in this film, when powerful corporations (through financing campaigns and lobbying) are able to influence politics and the enforcement of environmental regulations.
Download the teacher's guide for The Last Mountain (PDF)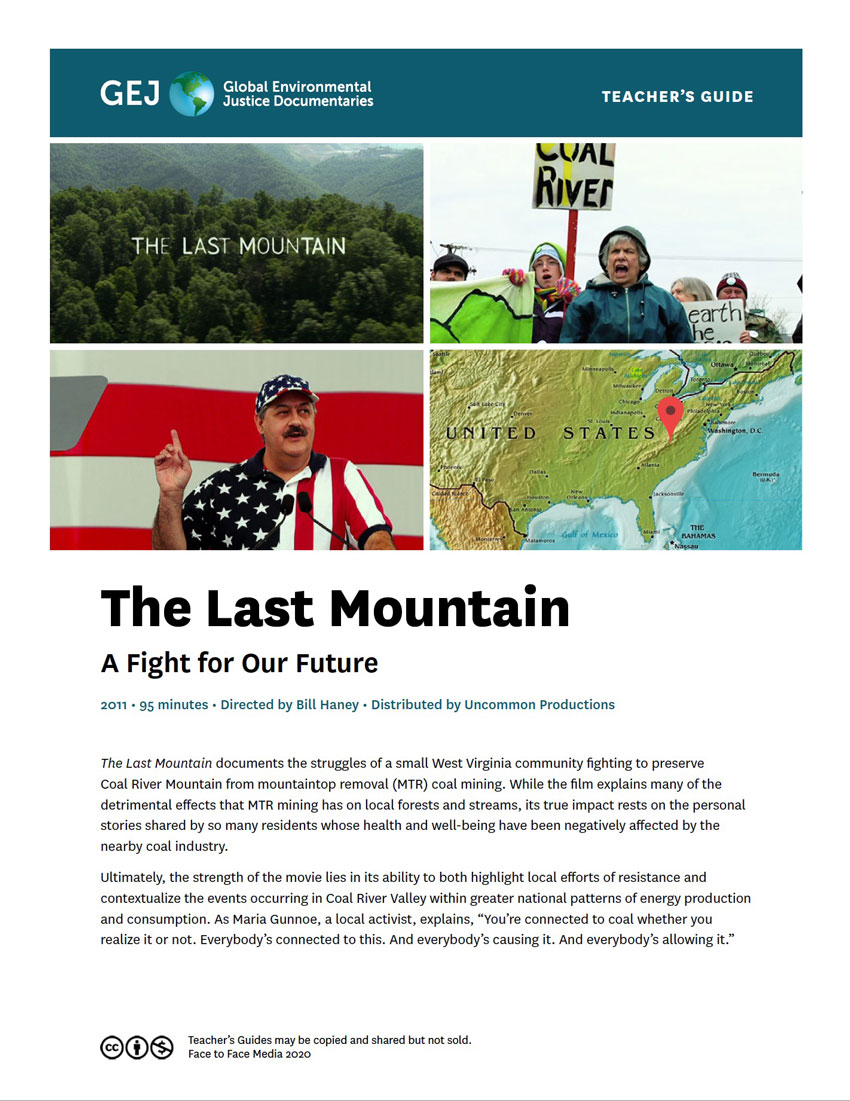 No transcript available.
"One of the most compelling environmental documentaries I've ever seen" - Dave Paiz, The Loft Cinema
---
Awards
Official Selection: 2011 Sundance Film Festival, 2011 Full Frame Documenary Film Festival
Citation
Main credits
Kennedy, Robert Francis (on-screen participant)
Sadler, William (narrator)
Haney, William M. (film producer)
Haney, William M. (film director)
Haney, William M. (screenwriter)
Rhodes, Peter (screenwriter)
Bingham, Clara (film producer)
Grunebaum, Eric (film producer)

Other credits
Principal cinematographers, Jerry Risius, Stephen McCarthy, Tim Hotchner; edited by Peter Rhodes; original music by Claudio Ragazzi.
Distributor credits
Clara Bingham;Eric Grunebaum;Bill Haney;
Haney,Bill
Co-Producer- Laura Longsworth
Executive Producers- Tim Disney, Sarah Johnson Redlich, Tim Rockwood
Cinematographers- Jerry Risius, Stephen McCarthy, Tim Hotchner
Editor- Peter Rhodes
Principal Sound Recordist- Mark Mandler
Composer- Claudio Ragazzi
Docuseek subjects
Government Policy
Environment
Environmental Justice
Geography
Ethics
Energy Sector
Resource Planning and Management
Human Rights
Rural Studies
Documentary Films
Water
Poverty
North American Studies
Business Ethics
Corporate Social Responsibility
Pollution
Toxic Chemicals
Occupational Health and Safety
Trade Unions
Work
Mining Sector
Communication and Media Studies
Mountains
Energy
Fossil Fuels
Geology
Rivers
Mining
Clean Water
Conflict Resolution
Appalachia

Distributor subjects
Activism
Bioregions and Habitat
Climate Change
Conflict Resolution
Environmental Geography
Environmental Justice
Environmental Law
Government
Habitat Loss
Mining
North American Studies
Occupational Health and Safety
Rivers
Sustainability
Toxic Chemicals
Trade Unions
United States
Water
Wetlands

Keywords
"The Last Mountain",United States,Bill Haney,coal country,strip mining,mountaintop removal,mining,Coal River Mountain,Appalachia,West Virginia,Massey Energy,Alpha Natural Resources,Robert F. Kenned Jr.,Maria Gunnoe,Joe Lovett,Bo Webb,Ed Wiley,Jennifer Hall-Massey,West Virginia Coal Association,Don Blankenship,Climate Ground Zero,Mountain Justice,civil disobedience,Appalachia,Alan Hershkowitz,Natural Resources Defense Council,NRDC,Gus Speth,Michael Shnayerson,greenhouse gas emissions,arsenic,lead,pollution,Prenter,Bob White,Governor Joe Manchin,Environmental Protection Agency,EPA,community,health,toxic waste,"Last Mountain",Global Environmental Justice,
Welcome to Docuseek2!
Docuseek2 is a streaming platform of the best documentary and social issue films available for the higher education community.
Anyone may search for titles and find detailed information about the titles. To preview films or license them for streaming, you must register and login.
Currently, we support online registration for anyone affiliated with a higher education institution. Please inquire if you are with a K-12 district or school or with a public library.
Click the Close button to get started!