Curator
— Amity Doolittle, Senior Lecturer and Research Scientist, Yale School of Forestry and Environmental Studies
Black Tide: Voices from the Gulf
New to the Global Environmental Justice Project?
Please register and login to preview and/or license this film. If your institution has already licensed this film, you will need to access this page from your institution's network to watch the film. For help on using the Docuseek2 platform, please visit our help wiki.
* New film added Fall 2020 * 
Award-winning filmmaker Joe Berlinger tracks the lives of Louisiana residents living in the aftermath of the largest offshore oil spill in American history.
Curator: 
This film was selected by Amity Doolittle, Senior Lecturer at the Yale School of Forestry and Environmental Studies

Why I selected this film
Even though coverage on the Deepwater Horizon oil spill eventually faded from national news media, local residents continue to feel the impact individually, economically, and environmentally one year later. The film highlights the need for local communities to continue fighting for justice through political action to continue the cleanup, revive the economy, mitigate damage to flora and fauna, and gather scientific information to better quantify the impact of future similar disasters. The film reminds viewers that disasters of this size and scale harm local communities in a multitude of ways that may not be visible, and that without sustained action to hold oil companies accountable, environmental justice is hard to achieve.

Teacher's guide  
Please see the teacher's guide for maps, background information, suggested subjects, questions and activities.

Synopsis 

One year after the Deepwater Horizon oil rig exploded in the Gulf of Mexico, the coastal communities of Grand Isle, Louisiana had still not recovered from the devastating effects wrought by the 200 million gallons of oil spilled following the explosion. Documentary filmmaker Joe Berlinger traveled across the Louisiana coast interviewing local fishers, restaurant owners, marine scientists, and British Petroleum (BP) representatives to find out how they dealt with the cleanup. The departure of news media in the months after the initial explosion left coastal Louisianans to quietly rebuild their lives. Berlinger's documentary provides critical insight into a story of recovery in the wake of the disaster.

The environmental justice focus of the film
The Louisiana fishers, business owners, and communities whose livelihoods depend on coastal resources like shellfish, bivalves, and fish were hit hard by an environmental disaster in which they played no part. Although they received some financial settlements, many aspects of their livelihoods, like the loss of fishing culture and community, were not accounted for. By focusing on the spill's broad impact on the local communities, the film highlights the efforts of residents who are fighting for environmental justice in the wake of an environmental catastrophe.
Download the teacher's guide for Black Tide: Voices from the Gulf (PDF)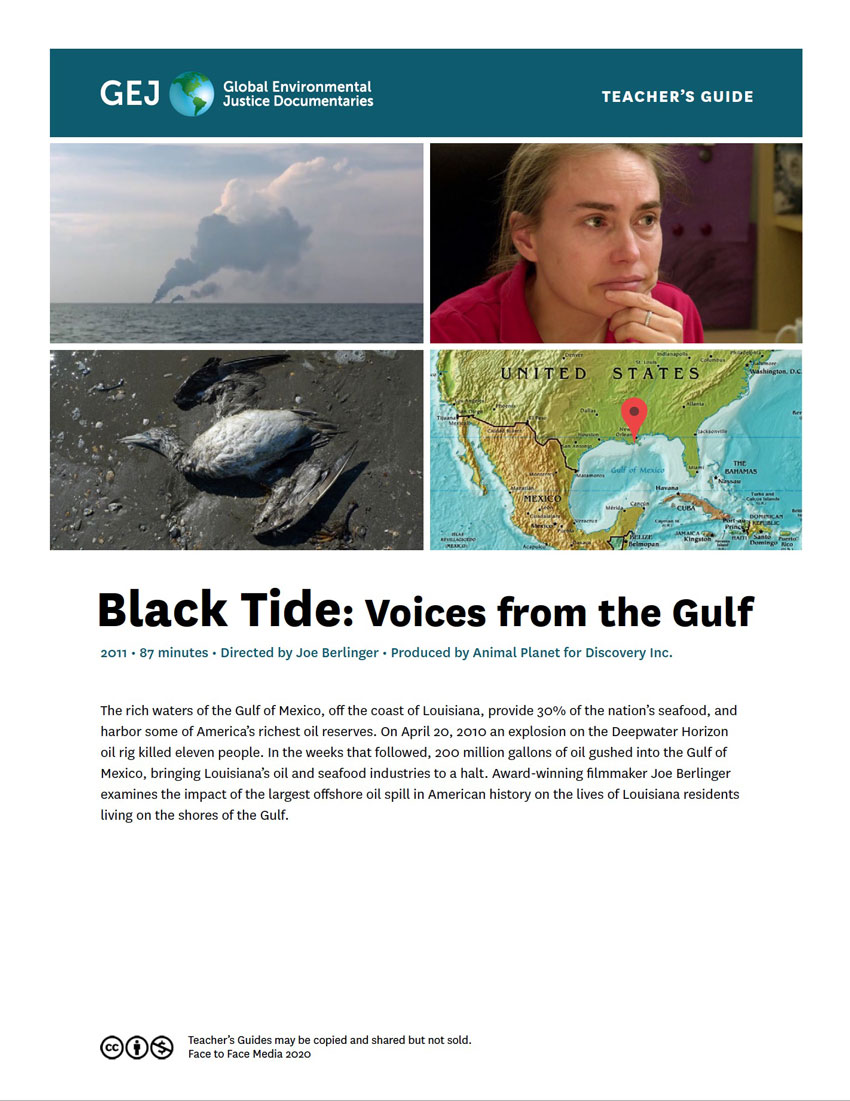 No transcript available.
Citation
Main credits
Heyman, Jay (film producer)
Heyman, Jay (film director)
Berlinger, Joe (film director)

Other credits
Director of photography, Bob Richman; editor, Gabriel Rhodes; music, APM [and 7 others].
Distributor credits
Jay Heyman, Joe Berlinger, Jon Kamen, Robert Friedman, Justin Wilke
Berlinger,Joe
Directed by 
Produced by 
| | | |
| --- | --- | --- |
| Joe Berlinger | ... | co-executive producer |
| Jon Doran | ... | story producer |
| Sara Enright | ... | co-producer |
| Robert Friedman | ... | executive producer |
| Elyssa Hess | ... | associate producer |
| Jay Heyman | ... | producer |
| Jon Kamen | ... | executive producer |
| Patrick Keegan | ... | associate producer |
| Lisa Bosak Lucas | ... | executive producer |
| Stephanie Wang-Breal | ... | story producer |
| Justin Wilkes | ... | executive producer |
Cinematography by 
| | | |
| --- | --- | --- |
| Robert Richman | ... | director of photography |
Film Editing by 
Edward A. Bishop
...
additional editor (as Edward Bishop)
Mike Long
...
lead editor
Gabriel Rhodes
 
Second Unit Director or Assistant Director 
| | | |
| --- | --- | --- |
| Jay Heyman | ... | second unit director |
Sound Department 
| | | |
| --- | --- | --- |
| Dan Flosdorf | ... | re-recording mixer |
| Michael Jones | ... | sound recordist |
| Eric Ledet | ... | sound recordist |
| Greg Linton | ... | additional sound mixer |
Editorial Department 
| | | |
| --- | --- | --- |
| Edward A. Bishop | ... | additional editor (as Edward Bishop) |
| Christopher Green | ... | assistant editor |
| Eden Mackenzie | ... | assistant editor |
| Jerome Raim | ... | lead assistant editor |
| Timothy Ziegler | ... | colorist |
Additional Crew 
| | | |
| --- | --- | --- |
| Jaffari Barnard | ... | production assistant |
| Donnie Boheim | ... | production coordinator |
| Kelsey Field | ... | production assistant |
| Joshua VanBuskirk | ... | production assistant |
| Justin Walters | ... | production assistant |
Docuseek subjects
Fishing
Food
North American Studies
Business, Labor and Economics
Business Ethics
Corporate Social Responsibility
Labor Studies
Environmental Law
Government Policy
Environment
Estuaries
Oceans and Coasts
Conservation and Protection
Environmental Justice
Environmentalists
Habitat Destruction
Pollution
Toxic Chemicals
Water
Geography
Critical Thinking
Ethics
Animals and Animal Rights
Community
Sociology

Distributor subjects
Food
Fishing
Habitat Loss
Human Rights
Labour Studies
North American Studies
Rivers
Water
Corporate Social Responsibility,North American Studies,Environmental Justice,Oceans and Coasts,Fishing,Public Health,Habitat Loss,Labor Studies,Activism,Pollution,Climate Change,Environmental Disasters,Non-renewable Resources,Mining & Resource Extraction,Energy Policy,Oceanography,marine science,
Keywords
Deepwater Horizon, Louisiana, oil spill, fishing, ocean,oysters, Floyd Lasseigne, Al and Sal Sunseri,"Black Tide"; Global Environmental Justice,Louisiana,Gulf of Mexico,oil,crude oil,offshore drilling,environmental disaster,BP,British Petroleum,Deepwater Horizon,seafood,fishing,shellfish,oil spill,political action,habitat loss,ocean,public health,corporate accountability,disaster,oil rig,environmental recovery,economic recovery,coastal communities,compensation,contamination,dolphins,ecosystem,habitat loss,environmental impacts,US Fish and Wildlife Service,US National Oceanic and Atmospheric Administration,NOAA,chemical safety,biodegradation,environmental protection,dolphins,dispersants,remediation,
Welcome to Docuseek2!
Docuseek2 is a streaming platform of the best documentary and social issue films available for the higher education community.
Anyone may search for titles and find detailed information about the titles. To preview films or license them for streaming, you must register and login.
Currently, we support online registration for anyone affiliated with a higher education institution. Please inquire if you are with a K-12 district or school or with a public library.
Click the Close button to get started!